How we started
Our prayer shawl ministry started in 2013 by inspired and caring prayer warriors who lovingly donated their time and talents to creating hand-knitted and crocheted shawls for those in need of comfort and solace.
Each shawl begins with prayers for the recipient. Petitions are continued throughout the creation of the shawl. When the shawl is completed, it receives a final consecration at Pleasant Grove's worship service from our minister and congregation. The shawl then washed and receives a special tag and a prayer letter to the recipient before being sent on its way.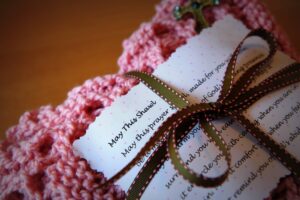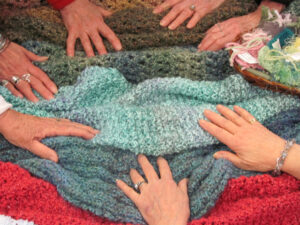 We give prayer shawls to…
…those who are distressed (e.g., comfort for the aging, healing during an illness and recovery, solace for broken hearts or bruised spirits, strength for deployed Service members and their families);
…those who mourn the loss of a loved one;
…those who travel or move away;
…those who celebrate the arrival or baptism of a new baby;
…those who take on new responsibilities at graduation;
…those who rejoice in the love of a new marriage;
…those who honor the bonds of true friendship.
About Prayer Shawls
God has inspired many, many people for generations to serve the Him through prayer using blankets and shawls in diverse ways. Over the centuries, shawls have come to symbolize shelter, peace, and spiritual sustenance. The prayer shawl ministry's message is simple, universal, and enduring — turn ordinary skeins of yarn into handmade expressions of love and comfort interwoven with countless prayers and blessings.
This ministry is a blessing for both the giver and recipient — both are surrounded by the unconditional loving embrace of a caring God. Prayer shawls become tangible symbols of love when words can't be found to adequately express one's feelings. It is a gift freely given with no strings attached. Made in prayer, as prayer, for prayer, the shawls are passed on hand-to-hand and heart-to-heart.
Join our Team today!
You can be a part of Pleasant Grove United Methodist Women's Prayer Shawl Ministry by making a shawl, praying for the ministry, or requesting a shawl for a friend or loved one who needs to feel God's embracing love and care.
The shawls do not have to be alike. There is no specific pattern to create these gifts of love and caring. You may use any pattern for a shawl.
Knitters and crocheters of all levels are warmly welcomed to join us in the Prayer Shawl Ministry. We meet monthly and if you do not know how, we will be glad to teach you. Come join us for the fun and Christian fellowship. We also welcome those who prefer to participate from the comfort of their own home.
For more info, contact Bonnie Myers at (205) 568-5722 or wylam.girl@gmail.com.